Furuno FA-150 UAIS Transponder
FA-150 is an AIS Class A transponder is designed to improve navigation safety by observing other vessels that are equipped with AIS. Also, data is exchanged with the coast stations in real time in the coating zone VHF. It is used for collision avoidance, to raise awareness in the dark, in the fog, and other difficult sea conditions. Furuno FA 150 Universal AIS (Automatic Identification System) set is for sale. Furuno FA-150 AIS set comprises of monitor display unit FA-1502 with Transponder box (Furuno FA-1501 transponder) and GPS Antenna (Furuno GPA017S) is for sale.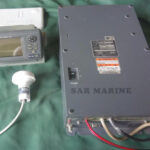 Furuno FA-150 UAIS Transponder Overview
The FA-150 is a universal AIS (Automatic Identification System) for open sea and inland water- ways, capable of exchanging navigation and ship data between own ship and other ships or coast- al stations. It complies with IMO MSC.74(69) Annex 3, IMO MSC.302(87), A.694, ITU-R M.1371- 4 and DSC ITU-R M.825. It also complies with IEC 61993-2 (Type testing standard) and IEC 60945 (EMC and environmental conditions).
The FA-150 consists of VHF and GPS antennas, a transponder unit, a monitor unit, and several associated units. The transponder contains a VHF transmitter, two TDMA receivers on two parallel VHF channels, a DSC channel 70 receiver, interface, communication processor, and internal GPS receiver. The internal GPS is a 12-channel all-in-view receiver with a differential capability, and provides UTC reference for system synchronization to eliminate clash among multiple users. It also gives position, COG and SOG when the external GPS fails.
Furuno FA-150 UAIS Transponder Features
Safety of navigation by automatically exchanging navigational data between ships and between ship and coast
LCD panel satisfies the IMO minimum requirements plus simple plotting modes
Interfaces for radar, ECDIS, PC for future networking expansion
GPS/VHF combined antenna for easy installation available
CPA/TCPA alarm
Built-in GPS receiver for UTC synchronization and backup position-fixing device